Just finished baking this shepherd's pie for the boys. Since domestic helper is not around and both hubby and I have to work this week, we are leaving the two boys at home on their own. The P6 boy cooked instant noodles for himself and his younger brother for lunch even though I left them money to tabao lunch from the coffeeshop downstairs. Their daddy came back and cooked sphagetti for dinner for them so I quickly went to NTUC after work to grab a few ingredients and made this shepherd's pie for them so that they just need to heat it up in the oven and can have it for lunch.
See the missing piece. Daddy and older boy had to do a tasting immediately after the pie is out of the oven.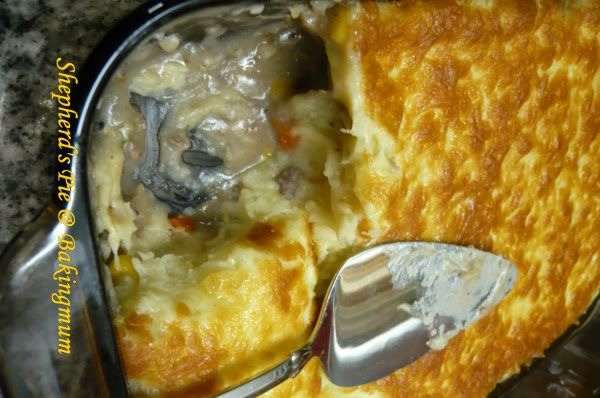 I left the filling a little wet as my son prefers to have it a little moist.
This recipe is based on how I baked my Shepherd's Pie and the ingredients are based on what I used that night.
Ingredients:
6 big potatoes, cubed
1/2 big white onions, chopped
1 tbsp chopped garlic
300g minced chicken or beef
1 small can of button mushroom
1 cup of mixed vegetable
1 can of cream of mushroom soup
Some milk
Salt and pepper
1 cup shredded cheddar cheese
1 tbsp of plain flour mixed with 3 tbsp of water
Methods:
1. Sautee onion and garlic until onion is soft. Add in minced beef/chicken and button mushroom and fry until it is cooked. Add in whole can of cream of mushroom soup and using the can measure one can of water to add in and mix well. Add in mixed vegetable. Add salt and pepper to taste. Add the prepared flour mixture to thicken the fillings. Add the flour mixture a little at a time to the right texture you like. Discard the unused flour mixture. Leave the fillings aside for later use.
2. Bring a pot of water to boil. Add in all the cubed potatoes and boil until it is soft. Test by using a skewer or fork and when it can be poked easily, it is ok. Drain the water and pour soft potatoes into a big mixing bowl. Mashed potatoes quickly while it is hot. After mashing, add in the whole cup of cheddar cheese and mix well. The heat of the potatoes will melt the cheese. Add in some salt and pepper to taste. Add in some milk to the mashed potatoes but do not add too much. During baking, the mashed potatoes will turn slightly wet and soft.
3. Pour the fillings into a glass baking tray or metal baking tray, it doesn't matter. Level the fillings and top it off with the mashed potatoes. Spread evenly. Sprinkle more shredded chedder cheese on top of the mashed potates and baked it in a preheated oven at 200C until the top is brown and crispy.
Note: You can add some mixed herbs or dried oregano, parsley, etc into the filling.