Hubby brought us to try this zichar place at Kakit Bukit tonight since I had wanted to eat out. This place is just opposite the Kakit Bukit Hostel and it is called 'Lam's Seafood' at 18 Kakit Bukit Road 3.
This mee sua with seafood is good. It cost $8 for a small bowl but there are lots of ingredients inside like abalone, prawns, sea cucumber, mushroom, oysters. It is something like the Taiwanese oyster mee sua but the colour is a little orangey instead of the brown colour that we see very often.
This tofu is very soft inside but I find it a little bland in taste. Overall, family feels that it is not bad.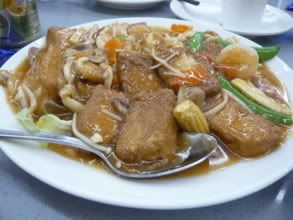 The green veg is just fried with garlic. Very light and nice.
This Thai style fried chicken is really very yummy. The chicken is crispy on the outside and soft and tender on the inside. The sauce has a nice lemon grass fragrant and you can see pieces of deepfried lemongrass on the chicken.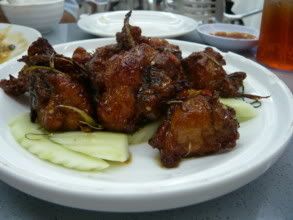 Hor fun is not bad too, got the 'wok hey'. The seafood used in the hor fun is fresh and the prawns are big.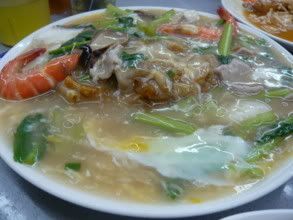 We ordered a plate of the fried rice too. Very well fried with a nice fragrant when served.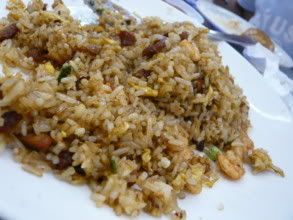 Overall, I wouldn't mind going back there to eat again as the food is quite delicious. One thing was that we had to wait for almost 20 to 30 minutes for our food. Maybe because it is a Sunday night. Our total bill came up to $44 and with the receipt we can go back to the restaurant in two weeks' time and as long as we order anything more than this amount, we will get 50% off from our previous bill. Not a bad deal huh!