I was feeling like making something tonight and here you go, Yam Swissroll.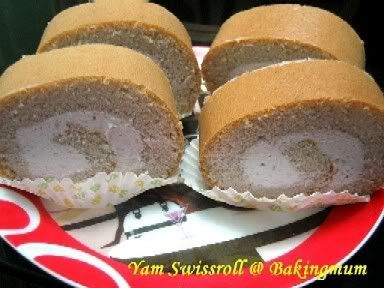 Swissroll recipe
This recipe was mixed and matched by me to get to this texture which is soft and easy to roll w/o the skin breaking.
Swiss Roll
(A)
4 egg yolk
25 gm caster sugar
1 tsp ovalette
(B)
4 egg white
40 gm caster sugar
45 gm cake flour
25 gm corn flour
30 ml melted butter
Whisk (A) until fluffy and creamy.
Whisk (B) until soft peak, then add (B) to (A).
Fold in sifted cake and corn flour. Mix well. Then add in melted butter to mix well.
Pour mixture onto a lined baking tray. Bake in a pre-heated oven at 190 deg C for abt 15 to 25 mins. When cake is baked, leave it in baking tray for abt 5 mins. Turn cake out onto a piece of greased proof paper and immediately roll up the sponge cake together with the paper. Leave it rolled up to cool for abt 10 mins. After the sponge is cool, unroll it and spread a layer of whipped cream or jam onto the sponge cake and roll it up using paper as a guide (like rolling sushi). Leave sponge cake in fridge to chill before serving.