I am on leave at home today due to my upset stomach. Didn't want to eat anything too solid so I cooked a big pot of porridge for myself and the family. My son's favourite century egg porridge.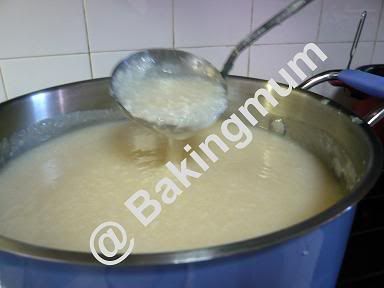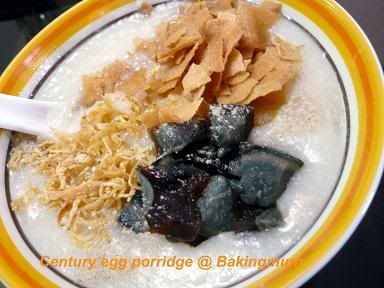 I am just sharing with you how I did my porridge. First I soak about 1 cup of normal rice and 1/2 cup of glutinous rice with some oil for about an hour. Then I boil some stock using yellow beans, dried scallops, ikan billis. Wash rice until water is clear. I used my thermal pot to boil the porridge with water first. I let it boil then transfer the pot into the outer pot. I leave to cook on its own for about at least one hour until the water is all absorbed into the grains. Then I put it back onto the stove and add the stock that I have cooked into the dried up porridge. Stir and cook while adding more stock as you go. The grains would be very easy to break up at this point. Add more stock or water depending on how thick you want the porridge to be. I added some lean meat marinated with some soya sauce and sesame oil into the porridge to cook. I also added some chopped salted eggwhite into the porridge. It is up to you whether you want to add century egg into the porridge to cook or to add it as a condiment.
I also fried some popiah skin until brown. Break it up and sprinkle onto the porridge before serving. It is very nice. You can also add some toasted or fried silverfish on top of the porridge before serving.
Another easy way to cook this is using rice cooker. Cook porridge in the rice cooker with enough water. When porridge is cooked the water should be absorbed into the grains already. Add more stock that you have prepared and keep stirring the porridge while cooking it in the rice cooker. The grains will be broken up and you will get gluey and smooth porridge too.