Wanted to make this agar agar for a few times already but always no chance. Finally, yesterday found the time and all the ingredients to make it.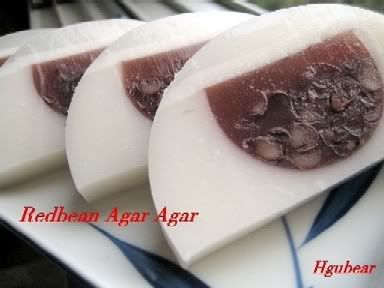 Redbean Agar Agar
Ingredients
Redbean Layer:
50 gm redbean (boiled with water till soft, drained)
1 ¼ tsp agar agar powder
50 gm sugar
200 ml water
A little red colouring
Method: Boil agar agar powder, sugar and water till well dissolved. Remove from heat and add in cooked redbean. Add a few drops of colouring and mix well. Pour mixture into a small triangle or semi-round mould and allow it to set.
Coconut Milk Layer:
¾ tbsp agar agar powder
100 gm sugar
150 ml thick coconut milk
350 ml water
¼ tsp salt
Method:
Boil above ingredients and sieve. Pour a little into a larger triangle or round mould. Leave it to set a little. Carefully place in the set redbean agar agar on it. Pour remaining coconut milk mixture into mould. Leave it to set. Refridgerate well before serving.