I made some spritz cookies tonight. The recipe's conversion from cups to gram is totally off. I only realised it when the dough turned out to be dry. I have made this before using cup measurement and I was able to use a cookie press to press out the dough. But this time, it was impossible. In the end I had to roll the dough out and cut them with cookie cutters. Fortunately the cookies still turned out ok.
Since Singapore's National Day is just around the corner, I printed LOVE and SINGAPORE on my heart shape cookies to wish Singapore a wonderful birthday.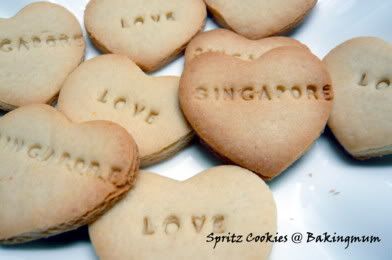 The rest of the cookies are made in different shapes with different toppings. So colourful and it gives a joyous mood to the cookies.