Baked some seseame crown this morning. Wanted to eat it with the curry that I have cooked. Hope the children will like this bread since there is so much sesame in it. This bread is crusty on the outside and soft on the inside.
I did one recipe and got a big and a small sesame crown.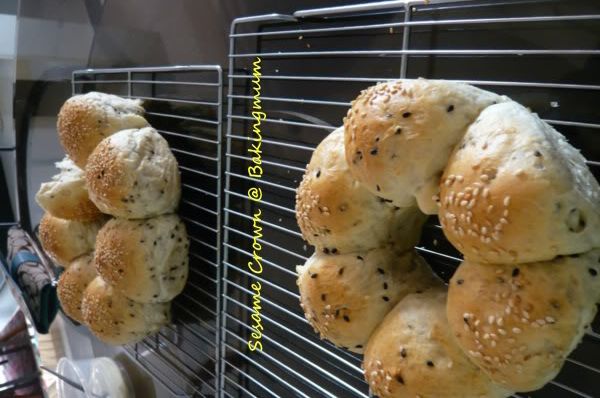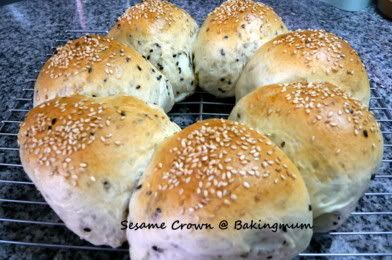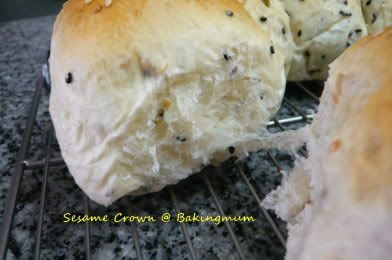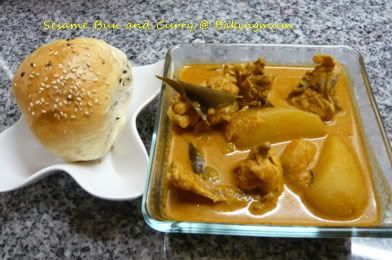 SESAME CROWN
(recipe from Y3K)
Ingredients for bread dough A:
300g bread flour, ½ tsp salt
1 tbsp milk powder, 30g icing sugar
Ingredients for bread dough B:
150ml water, 10g instant yeast (mixed together till frothy)
Ingredients for bread dough C:
1 egg yolk, 30g butter
Ingredients for bread dough D:
20g black sesame seeds (toasted)
For topping:
1 egg (beaten)
Some with sesame seeds
Methods:
1. Combine ingredients A in a mixer. Mix lightly before adding in ingredient B. Beat until a dough is formed. Add in ingredient C and beat until dough is smooth and has an elastic touch. Add in ingredient D and mix well.
2. Keep the dough in a big bowl, covered with a damp cloth. Leave to rise in a warm place for 40 minutes or until double in size.
3. Divide dough into 10 portions, shape into small balls. Glaze with egg wash and top on some white sesame seeds. Place dough balls next to one another, using two chiffon cake moulds. Leave to proof covered for 45 minutes till double in size.
4. Bake in preheated oven at 180C for 20 to 25 minutes till golden brown. Remove from mould immediately and cool on a wire rack.