This is a very light pumpkin cake. You can find the recipe
here
. I wonder why mine look lighter in colour and not as compact as the one in leisure-cat's blog.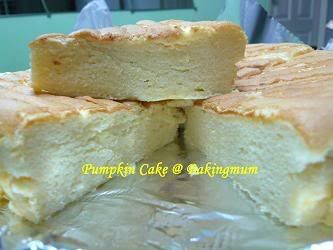 I have translated the recipe for the sake of those who cannot read Chinese. I have also added at the bottom of the recipe my own note to help you have a nicely cut cake.
PUMPKIN CAKE (recipe from Leisure-Cat)
Ingredients
Pumpkin puree 70 gm
Cake flour 100 gm
Baking powder 2 tsp
Egg whites 150 gm
Castor sugar (A) 40 gm
Corn oil 50 gm
Fresh milk 90 gm
Castor sugar (B)60 gm
Lemon juice ½ tsp
Methods
1. Preheat oven to 180°C.
2. Sift together the flour and baking powder into a bowl.
3. Mix pumpkin puree with sugar (A) well. Add in corn oil and mix evenly.
4. Heat up fresh milk and pour into pumpkin mixture. Mix well. Add in sifted flour and baking powder. Mix thoroughly.
5. Whisk the egg whites with lemon juice until frosty. Add in sugar (B) in 3 times and beat until stiff..
6. Take 1/3 of the eggwhite to mix with (4). Then pour it back into the rest of the eggwhite and mix evenly.
7. Pour the batter into the cake mould and bake at 180C for 20 mins.
(NOTE: When cake is totally cool, put in fridge or freezer to harden. Cut the cake like you would with a cheesecake. Ie, heat up knife and make a cut, clean knife, heat it up again and cut until you are done with the whole cake. This will ensure you get a nicely cut cake.)