I did some of my Chinese New Year marketing today. Have to make room in my freezer to store them so I had used up a few packets of the prawn shells that my helper has kept for me. The fastest way is to make prawn noodles. So you see, here is my prawn noodles.
I had lots of pineapple juice left over from making pineapple jam. Used it to make some pineapple flavour konnayku jellies. Very nice, sweet and sour at the same time. I like it.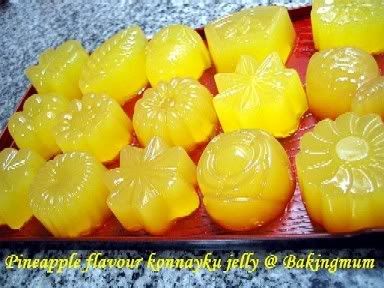 I have always panfried my guotie. So for a change, I tried steaming it. Turned out very nice too. Next time can make both panfried and steamed version.